Get up and glow from the inside out
Healthy skin doesn't just come from skincare, but from the nutrients put into the body
Feeling one's best begins when self-care becomes a key component in life. Skincare can only go so far if you are not taking care of what goes into the body. From green juices to working out and drinking chlorophyll water, there are so many benefits of healing one's body from the internal to the external. The glow will be blinding to the eye.
To start off, there is a juice bar that has several locations across the Treasure Valley called Boise Juice Company. They preach health and wellness, as well as fueling the body to achieve a complexion that is glowy and bright.
According to boisejuice.com, "Our smoothies and acai bowls are made of whole foods. No ice, no extracts, no processed sugars. We are non-dairy, all-natural goodness. What you see listed as ingredients is exactly what goes in with our juice, smoothies, and acai bowls." This company proves to be well-trusted. Whether one just finished a killer workout or needs a pick me-up, fruits and veggies are the cure to carrying out the rest of the day.
Speaking of working out, this is so important for mental health and balancing stress levels. When in high situations, the skin tends to act out by creating breakouts or flare-ups. Sweating is basically sparkling (wink wink). Breaking a sweat improves the amount of oxygen that flows through the skin as well as releases endorphins that allow us to have energy and happiness throughout the day. It is also known to increase collagen production. Collagen is a protein that helps the skin to appear plump and youthful. As one ages, collagen is less prominent in the skin, leading to wrinkles. Prevention is key to looking young as one ages, so everyone should get workout clothes on, tie their tennis shoes and get moving.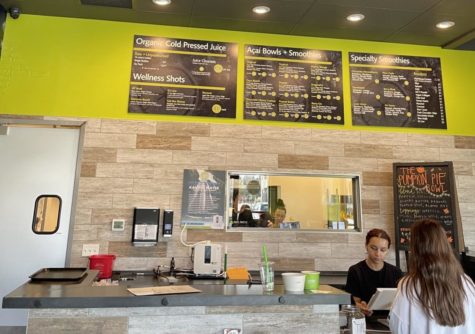 The third and last way to enhance the skin's natural glow is by drinking more water. It is something that has been heard a million times before, but it is true. Hydration is not just essential to functioning, but it increases the health of the skin barrier. The addition of chlorophyll in one's water is an extra beneficial way to heal the body.
According to Kourtney Kardashian's website poosh.com, "Chlorophyll helps wounded cells repair themselves and behave like healthy cells, which means the cells can regenerate themselves… It has been suggested that stimulating healing can improve fine lines and wrinkles. This is because the—let's say toxicity—causing your fine lines and wrinkles gets a rejuvenating boost of positive energy." Chlorophyll isn't just used for science class. Liquid chlorophyll can be found at local Boise Co Ops in the health and wellness section. Instead of using light for photosynthesis, it should be used to brighten the skin every day.
There are many ways one can achieve the glow from within. From lowering stress levels to working out and making sure water and fresh fruits and vegetables are consumed, it is guaranteed that one will not only feel their best but be glistening. It is time for everyone to get up and get glowing.