The Eagle High Girls' Varsity and JV rugby team is gearing up to play their 7's season. 7's season is when there is only seven players on the team instead of 15. After a good off-season with hard training and early morning practice, the team is looking to bounce back from a state championship loss last season during their 15-player season.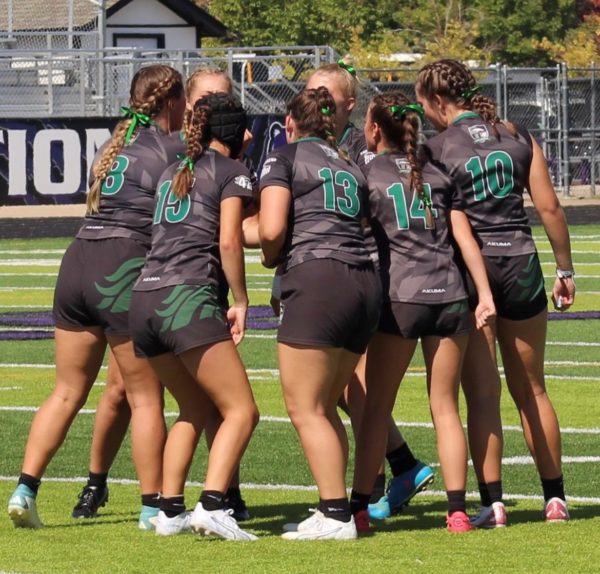 The Mustangs have many returning players such as Seniors Jordynn LeBeau and Karlee Arlington. These are the captains of the varsity team. Other returns like juniors Abby Fuhriman, Kylie Heichman, Madison Cerda and many others are coming back to the Mustangs this season. The Mustangs' last 7's season ended in a State Championship where the dominated all their opponents. They are looking to repeat that success and claim another State Championship for the program.
During the summer, the girls traveled to Salt Lake City, Utah and took third in the NAI (North American Invitational) and went 5-1 in their division. They have made huge strides this off-season to get better and try to beat all the competition. All the players are excited for the season to start. 
"I'm excited to play this season. We have a lot of players that are returning, and we have a good chance at state," said sophomore Abby Fuhriman. Fuhriman plays prop on the team.  
According to www.goffrugbyreport.com, their head coach Kraig Smikle said, "We have the intelligence, athleticism, and experience. These girls are, as Pat McAfee would say, 'dawgs' and extremely hardworking." 
Their first game was against both Middleton and Timberline. The varsity won both their games with a total of 83 combined points. The JV team played Meridian and Owyhee, they beat Owyhee and the tied Meridian with a last second try. The JV is 1-1-0. 
This season should be a fun season for the Mustangs and their chances at the State Championship game are high.  
Story continues below advertisement