Morgan Wallen stuns fans at the Idaho Ford Center
The country artist that has taken the nation by storm finally made his way to Idaho. Morgan Wallen is a young country music star that has become significantly popular in the last couple of years. With five of his songs hitting number one on the music charts, Wallen has made quite the name for himself and continues to break records with one of the fastest selling out tours of all time, The Dangerous Album Tour.
On the 42nd stop on his tour, Morgan Wallen set up show at the Ford Idaho Center Amphitheater on Sept. 9. Fans from all around Idaho and surrounding states got to the venue hours before the concert began to secure their spots. HARDY, a country music singer/songwriter opened for Morgan Wallen and rocked the stage for about an hour before the stage crew prepared for Wallen's set.
"I wish HARDY's set would have been a little shorter and that the intermission didn't take as long, but everything was worth it in the end," said junior Grace Rasmussen. One of the only complaints of the night was how long it took for the stage crew to set up for Morgan Wallen. Fans waited almost an hour after the opener before he came on to perform.
Wallen started out with a few upbeat songs like "Up Down," "Dangerous" and "You Proof." Later, he sang some of his slower more popular songs like "Cover Me Up" and "Thought You Should Know," and at one point, fans all around the stadium waved their flashlights in the air to the rhythm of the song.
"It was such a cool moment and you had to be there to get the full experience…" said junior Laney Madarieta. "…pictures and videos don't do it justice." This was a constant theme throughout the whole concert: experience. Ask anyone that attended, the difference between listening to his music on a cellphone and hearing Wallen's voice live in concert is quite unforgettable.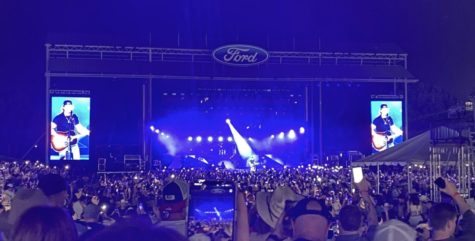 This was a special night for people all over Idaho. Morgan Wallen left his mark on the state and fans are hoping he will return in years to come.