Catalina Becerra continues to adapt to life in an unfamiliar country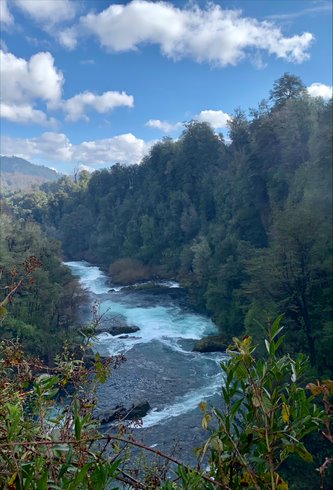 It's difficult to make changes in one's life, and it could be extremely hard when someone must immerse in a completely new and different life. Although there are positive aspects to living in a new country, the difficulties that are faced can never be hidden. 
Junior Catalina Becerra moved to the United States over a year ago, and it has been an experience that has completely changed her life. She was originally born in Chile and coming here has been one of the best opportunities for her in many ways. 
"This is a country full of good things and opportunities mostly focused on education, and it also allows you to meet people from many cultures," Becerra said. 
Even though she appreciates many of the things she can do in this country, it was hard for her to adjust at first, and it took time. Becerra has been a student at Eagle High since she arrived, and the majority of the changes she has had to experience are related to her progress during high school. 
"It's still hard to keep up in some classes because sometimes the teachers talk and I say in my mind 'I didn't understand anything', and in the end I feel like I'm not paying attention," Becerra said. "Sometimes they also want and expect me to do things at the same pace as the other students who do know how to speak perfect English and are native speakers." 
Even though she has had complications and pressure, Becerra has managed to overcome the change and the sadness she feels when she thinks about what her life was like before, and that is thanks to the fact that her friends have always supported her.  
"Everything happens for a reason, and good things come out of challenging things too. If bad or difficult things didn't happen, it didn't make sense for good things to exist, honestly," Becerra said. 
There have been students who have shown interest when they find out that she comes from another country. People are interested in talking to her and sometimes they have good intentions, but without realizing it, people may express slightly rude comments, and one of the funniest things are the questions that students keep asking her.  
"I remember talking to a girl in my English class, and suddenly she asked me if I eat tacos for dinner every day," Becerra said. "I told her that this is not something common that is done in my culture, because frankly, I am not Mexican, and I don't think Mexicans would respond very well to this comment either." 
She has advice for other students who find themselves in the same situation. 
"At first, it will be difficult to make friends. It will be difficult to talk to other people, and you will always miss your family and your life in your country of origin, and it is something you have to learn to live with," Becerra said. "It feels weird to adapt; it's obvious that it's going to cost you, it's hard, it's a new home, a new system and new people." 
She has been able to learn and gain more knowledge due to the transition of coming from another country and having to struggle with difficulties. That is one of the things that has made her realize how brave she is and the capabilities that she has. 
"I feel like once you're here for a period of time, things go your way," Becerra said.