New tennis courts are coming to Eagle High
Imagine playing a sport where the surface it is being played on can determine the outcome. This was the reality for Eagle High's tennis team last year. Over the years, the tennis courts at Eagle High have become severely cracked and damaged to the point where there were weeds growing out of them. This proved to be challenging for the tennis team's practices and matches.  
"This year, I'm really excited to be able to play on the new tennis courts," said junior Matthew Madden. "I think it's awesome that our school is providing us with new ones." Madden played for the junior varsity team last year, having a lot of fun and making quite a few new friends.  
The main problem with the old courts was that when a ball bounced on one of the fractured sections, it would fly in the opposite direction, which made it nearly impossible for the players to hit a good shot back. This past season, the Eagle High tennis team was not even able to use one of their courts during matches because the risk of a player stepping on one of the cracks and getting injured was too great.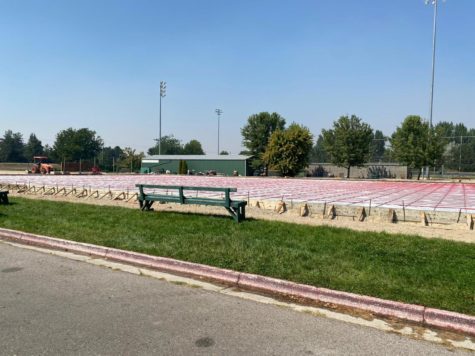 "They [the tennis courts] were so bad that we couldn't even play on one of them for matches, and the others were just tripping hazards from the cracks," said junior Lucy Ankeny. Ankeny played girls doubles for the Varsity team last year. Having courts that hindered the success of the team was frustrating for all the players.  
Getting new tennis courts at Eagle High has been a project that was attempted a few years ago, but the vast number of high schools and middle schools in the valley that also needed new courts made it difficult. It is amazing that Eagle High is getting new courts, and it will help the tennis team in their upcoming spring season. This year's tennis team has a large number of returning seniors. Getting to play on new courts for their senior year will be a great way to gain some motivation and excitement for the season.  
Hopefully, these new courts will provide new and better opportunities during practices and matches for the Eagle High tennis team.