The chilly October air was filled with excitement for Halloween as the Eagle High Student Council held the annual 2023 Trunk or Treat in the Eagle High parking lot. Students came together to organize a spooktacular event that ignited the school and community with Halloween spirit.  
Thanks to the Student Council's creativity and the community's involvement, numerous Eagle High clubs gathered in the school's parking lot from 5:30 p.m. to 7 p.m. on Oct. 30th. Every club was able to showcase their own captivating array of spooky, whimsical displays while passing out candy.    
"Trunk or Treat was super fun and it felt like all the organizations came together to have a great night. I'm glad we were able to do that for the school and community," said senior and student council member, Sienna Thompson.  
However, Trunk or Treat wasn't just about the costumes or candy; it was a heartwarming event that brought Eagle High together as well as the nearby Eagle community. It's rare when students, parents, and children can come together to celebrate and connect with one another. The clubs had numerous different activities for the younger kids to participate in such as pumpkin bowling, photo booths, and even mini golf.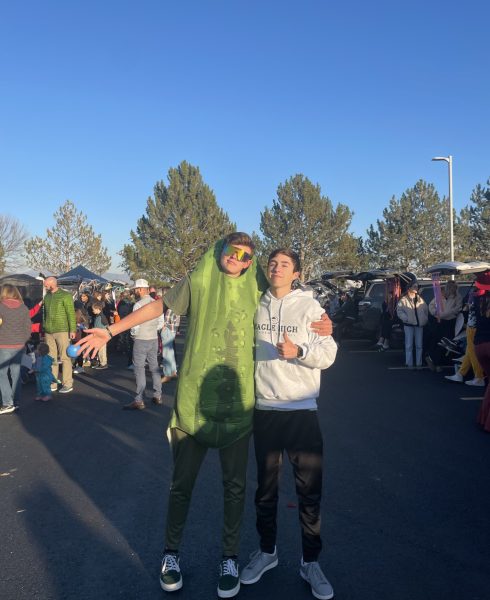 "It was a super fun opportunity for parents and kids to get know club members at Eagle High and some of those kids might even attend Eagle.  I saw so many kids and parents bonding with students," said sophomore Jack Seabrease.  
In a world that may feel divided between children and adults, Trunk or Treat is a reminder that everyone deserves to feel the youthful joy of Halloween.  
"I loved that [HOSA] got to support the community by doing something so enjoyable for everybody. I'm glad Student Council was able to plan and put it on," said sophomore and HOSA club member, Amanda Carpenter.  
Ultimately, the Eagle High Student Council did a perfect job at rallying the community and school together on Oct. 30th at Trunk or Treat; embracing laughter and joy through all attendees.
Story continues below advertisement