Senior Ethan Evans has gone above and beyond since he became the Eagle High football and baseball equipment manager. He has put in countless hours of hard work to help get the football team to where it is today. Evans takes pride in doing his best for the team; it would be very different without him.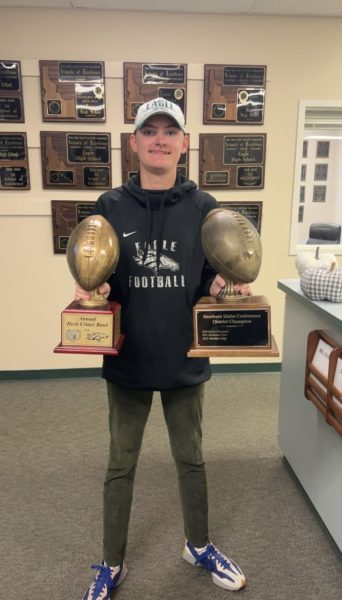 Evans values the daily work he puts in for the team, getting them prepared for practices and games, setting up the field and preparing the team's gear.  
Evans can be seen at the football field every day after school.  
"After class I go to the press-box and get out the [ATV], unpack pads and footballs from the back of the ATV. I set up the timer, so the players know the period and plays. I also play music for the team," Evans said. 
Story continues below advertisement
Evans is a huge contributor to the football program. 
"Ethan is extremely loyal to the program; he truly enjoys what he does," said varsity football coach James Cluph. "He doesn't see it as work, but an opportunity to help his brothers out and help the program any way he can."  
Evans was given the opportunity to join the varsity baseball team this upcoming 2024 season, and he did not let this opportunity go to waste.  
"I think the team is going to be excellent this year… I think we have some really good players this year, and coach Scott Deck is an excellent coach," Evans said. "This season, I will be setting up the advertisement banners along the fence and helping set up the field and dugout for game day and practices. I'm really excited for my first season as baseball equipment manager."  
Evans can be seen on the field with a smile on his face. Outside of school, Evans enjoys playing video games such as Counter Strike Global Offense and Rocket League. He also spends his time cheering on his favorite sports teams, the Colorado Rockies and the NHL team, the Seattle Krakens.  
 It seems as if there is never a moment Evans isn't enjoying what he does, as if there is never a frown on his face. Evans wants to make a career out of working with sports teams,  and with his drive, he could achieve his goals.