It's not every day that Eagle High gets to see the creation of a new club, but the 2023 to 2024 school year has seen a massive increase in new student-run clubs ranging from all types of preferences and extracurriculars. Among this crowd stands the Eagle High yoga club showing off their popular poses.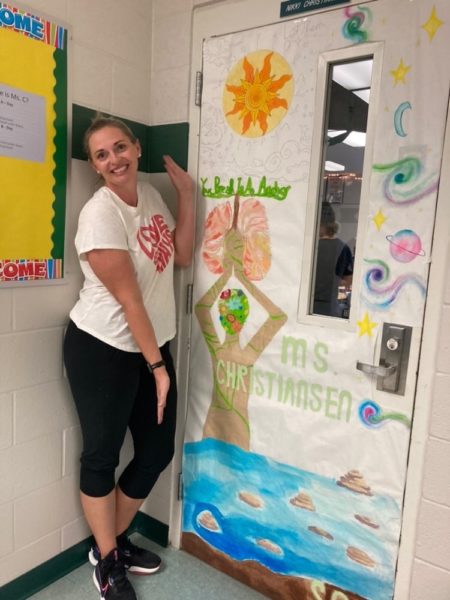 "I started yoga club because yoga is an amazing thing that is helpful with your mental and physical health, as well as your spiritual health, weight, and emotional health," said sophomore and president of the club Oliver Rhoades. "I wanted more people to appreciate the practice of yoga." 
Eagle High's yoga class was first established at the start of last school year, with many students wanting to get in and participate in a fun sports activity as well as finding spirituality through yoga. However, not all students who wanted to take the class got the amazing opportunity added to their schedules. 
"I know a lot of kids couldn't get into yoga because it was such a wanted class, so I thought yoga club would be a good idea," Rhoades said. "If you can't get into yoga class you should definitely join yoga club."  
Story continues below advertisement
According to mea.gov.in, yoga is defined as a spiritual discipline that focuses on bringing harmony between mind and body. The word derives from the Sanskrit word "Yuj," meaning to join or to unite, referring to the unification of the body and soul. It's a process that has been mastered since the very dawn of civilization itself. 
"Sophomore year I took yoga the first semester and I really loved it, and I thought it was a really good break throughout the day to help me recover my mental health," said junior and club member Carina Teebken. "I met Oliver last year and I knew he was starting a yoga club, and I was really interested because I had just gotten into yoga." 
Seeing a newly founded club based on a recently established class skyrocket into popularity this quickly goes to show how popular yoga really is here at Eagle High. With this newfound popularity, the club plans to do many activities in the coming months to flex their yoga skills. 
"I really just want more people to see yoga as a serious form of physical and mental therapy and not just something hippies do," Teebken said. "I do yoga all the time. I do yoga when I have a headache, I do yoga on the weekends; It's really relaxing." 
Many students who enjoy this highly popular physical and spiritual activity get to experience it like no other in the newly established Eagle High yoga club. Club meetings run once a month in math and yoga teacher Nikki Christiansen's room, S206. The club hopes to practice yoga twice a month and have additional informational meetings once everything has settled. 
"Mrs. Christiansen is a wonderful person. She's so amazing and understanding and is sometimes serious about yoga, but also sometimes knows the energy of the room and we end up having a nap day," Teebken said. "I think that yoga club is a great opportunity to opening up that safe space to more students than just the ones in her yoga class."