This year's football team has worked countless hours, trained daily and taken multiple wins against the fellow high schools in the district. The Eagle High football team is lucky to have 22 seniors who have worked hard to get where they are. They are mentored by head coach James Cluphf. He is proud of his team and everyone on it. Cluphf would like to highlight three notable players that have had significantly impacted this year's varsity team.  
These seniors are team leaders, great teammates and will do great things after high school. Tristan Walker is the starting defensive back and is 5'11". He is applying to the University of Utah, University of Arizona and Grand Canyon University.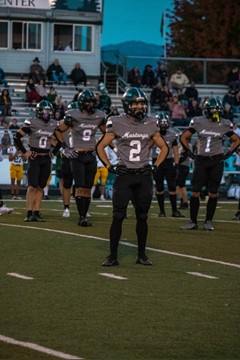 "I am not planning on playing football in college. Instead, I want to into accounting," Walker said. He has loved playing football at Eagle High but wants to get into accounting moving forward. Tristan has brought great energy and skill to the team this season and has enjoyed it very much.  
Davis Harsen is also a senior on the football team. He is very talented and a key player for the team. He is the starting quarterback and is 6'0". His excellent knowledge of football allows him to make great plays that help win games.  
Story continues below advertisement
Davis will attend college at Idaho State University next summer. He is one of the only players on the Eagle High football team that is committed to a college this early in the year.  
"To prepare, I'm continually training and playing on my high school team to make sure I am ready for the college level," Harsen said.  
Makeo Sneddon is a defensive back and a wide receiver. He is a 6' beast, adding much skill to the team. Makeo is still unsure what the future will bring or what it will look like. He is looking into Eastern Washington University, Boise State University, Weber State University, Montana State University and Montana University. He wants to continue his football career in college.  
"I'm playing on my high school team to help become better and prepare more," Sneddon said. He loves this sport and is excited to see what great things he will go on to do.  
Tristan, Davis and Makeo are just three of the 22 seniors the Eagle High football team has. They will all be missed greatly, but fans are excited to cheer them on their accomplishments in the coming years.