The Eagle High Volleyball team has been having an impressive season so far, with varsity only having one loss in the 2023 season. This is generating to tons of anticipation leading up to the district games for each of the teams.  
Varsity districts will start on Oct. 16 and will conclude on Oct. 19, while JV and sophomore districts will be on Oct. 14. Freshman districts have already concluded.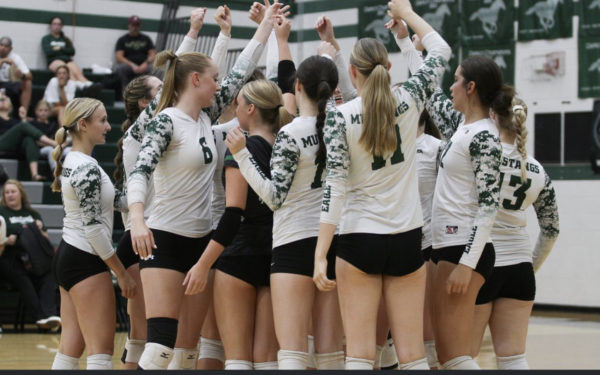 As pressure has been building up for districts as the teams prepare for their games. They have been practicing as usual and putting in extra work on and off the court with their coaches Collin Hartman, Shae Amdor and Meredith Niebergall. 
"The sophomore team has a really strong mix of sophomore's and freshman," said sophomore Natalie Huff. "It's creating a really solid team full of talents and hardworking girls."  
Story continues below advertisement
Varsity has also been feeling great about their season, as they feel their whole team is well rounded and fighting for every set.  
"We're extremely confident for our team going into districts," said sophomore Ellie Mcmangial. "We're going to give it our best and are getting ready to come out on top." Their win against Rocky Mountain High continues Eagle High's winning streak against them. 
Their most recent win against Madison High brings back their winning streak, as they sit number one in Southern Idaho.   
Overall, these volleyball players are ready to bring it for districts and to fight hard for varsity to compete in state. Eagle High has been having a strong season and a win at districts is within reach for all the teams.