Eagle High's Austin Hartnett shares his talent on TikTok
Through his videos, Hartnett voices his musical skill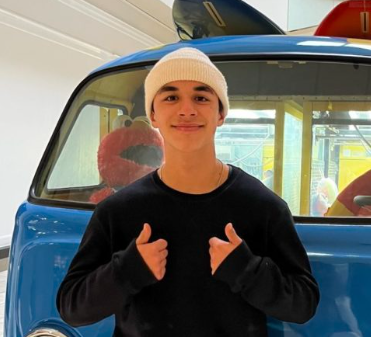 Freshman Austin Hartnett has made his name known on TikTok and only seems to rise in popularity on the app. Hartnett posts a variety of videos, but many of his most viral ones involve showing his musical talent by recording covers of popular songs, usually through guitar or piano. 
"I started out just doing it for fun and doing it because people told me I should because they say it's a talent," Hartnett said. 
It all started in the summer of 2022, going into his first year of high school. Hartnett posted a video of him and his dog, with "Perfect" by Ed Sheeran playing in the background and the caption, "forever my favorite love song." The video has received almost 170,000 likes since its initial post.  
"I was outside after a baseball game and just felt like posting," Hartnett said. "It just started blowing up for some reason, and then I realized that I could actually use this in a good way." 
Ever since then, Hartnett has immensely risen in popularity. Currently, he has almost 23,500 followers and 2.2 million likes. He even has a handful of videos that have over one million views just on their own. 
"I started meeting more people who also [posted], and they would give me tips for getting more diversity," Hartnett said. 
Hartnett plans to keep posting on TikTok and grow in popularity, and his goal is to get to 100,000 followers by his senior year. His username on the platform is @austinnhartnett. 
"If you want to start posting, everyone is going to have something to say about it, but you can express yourself however you want," Hartnett said. 
Through his videos, Hartnett has expressed himself in a great way and shown off his amazing talent for the world to see.