Tennis season has finally began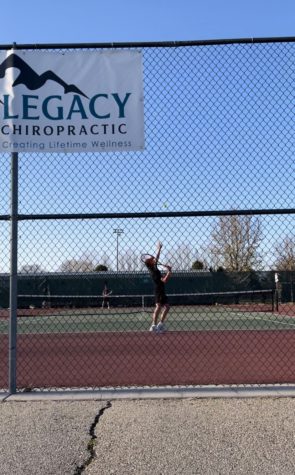 Eagle High is known for its high-achieving and incredible sports programs. From football and basketball to swimming and wrestling, teams are filled with motivated players that put in hard work in order to represent the school. One sports program that is often forgotten about is tennis. Tennis is a fun-filled, social sport while also being one of the most competitive and stressful there is. The stress in one's body when they know they need one more point to win, the feeling of gripping the racquet as the sun beats down on the court and that electric moment when one gets to celebrate with their teammates are what makes tennis such a memorable and intense sport.  
Another amazing aspect of playing tennis is the inclusive and welcoming feeling that comes from being a part of a team. Usually, the teams include both boys and girls, which adds a social element that most sports don't offer.  
"People should join the tennis team because the team feels like a family and it gives you the opportunity to develop your tennis skills," said senior Riley Bobkiewicz. "Tennis is a great sport and I love the camaraderie that comes with being a part of the team." Bobkiewicz is a returning state champion and team captain for the high school team. She has played tennis for about seven years and has committed to playing in college at George Fox University.  
This year, competition is around every corner with teams like Boise High and Timberline High in the running. Eagle High is right up there with a great chance to send most of its team to State this year. Eagle High has both a Varsity and Junior Varsity team, and all players are welcome. Tennis is one of the most inclusive sports where people of all different ages and interests come together to share their love for the sport.  
It's a huge honor and privilege to play on the varsity tennis team as a freshman this year," said freshmen Colton Symes. "I am looking forward to a fun season of continuing to grow personally and as a team." Symes is one the newest additions to the Varsity team this year and is already highly regarded by his teammates and coaches. As Symes mentioned, tennis contains aspects of individual competition as well as team success. The Eagle High Varsity team started their season off strong with an 11-1 victory over Mountain View High. The Junior Varsity team lost their first match but played great and has been working hard in practice to improve for the next one.  
The Eagle High Varsity team has high expectations this year and all players are looking forward to an amazing season. As this year's team contains mostly seniors, the team is hoping that their hard work over the four years will pay off. One can find the tennis match schedule and information on their official Instagram page @eaglemustangtennis.