Eagle High girls' wrestling team wins State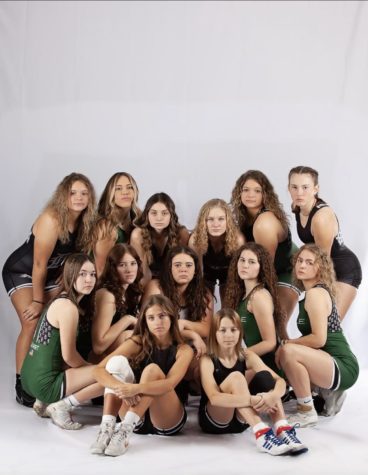 Following up their win last year in 2022, the girls' wrestling team won State yet again, making them three-time State champions with two sanctioned and one unsanctioned win. With only fourteen girls on the team, and a few coming from the girls' rugby team, they managed to finish with 126 points, over 55 points ahead of the second-place winner, Mountain Home High. 
After twin sisters and seniors Olivia and Reece Woods helped gather team members from the rugby team to join the wrestling team, six of the fourteen members from the rugby team ended up qualifying for state. 
Along with winning the state championship trophy, three of the Woods sisters, Olivia, Reece and sophomore Emry Woods, junior Holland Wieber and junior Jordynn LeBeau won individual titles for their weight classes. Reece Woods placed first in the 182-pound weight class, Olivia Woods won second place in the 285-pound weight class, Emry Woods took fourth in the 235-pound weight class, Wieber took third in the 132-pound weight class and LeBeau took first in the 165-pound weight class. 
"I'm really happy with everything that happened this season," said freshman Brooklyn Johnson, who went out to support her fellow wrestlers on the Eagle girls' team during their matches. Johnson also wanted to send a shoutout to freshman Ella Elordi for being such an awesome teammate.  
Other significant tournaments that the girls' team participated in were the Tiger-Grizz Championship where they are now two-time champions, the Jaybird Memorial Championship where they are three-time champions, Rollie Lane 2023 where they took gold out of 66 teams and the Reno Tournament where the team placed fourth overall, while All-Americans freshman Tommy Stone took third, Reece Woods took third, Emry Woods took third and Olivia Woods took second in their individual weight classes. The girls won the Ardis E. Nash Memorial Tournament.  They also took first in the Belt Buckle Classic Safeway Tournament.  Stone, junior Eden Garner, Reece Woods, Olivia Woods and LeBeau all placed first in their weight classes and all took home gold belt buckles. 
"I think we made enough noise that they're going to recognize it and do something better next year," said coach Mike Stone who won district coach of the year. He is proud of the girls on his team this year and can't wait for next year. 
The girls' wrestling team will not hold themselves back this year or the next. They will push themselves to get more members on the team and aim for the state title again in 2024.