Carter Davis brings positivity to Eagle High
This time of year can be stressful for many students. With assignments piling up and the days dragging on, it can be hard to stay positive. However, there is a special individual at Eagle High who is trying to spread light in the darkness.  
Senior Carter Davis has his own way of extending positivity throughout Eagle High. Davis has created a clothing brand called PSTV, pronounced "positive." His brand sells hoodies, t-shirts, bracelets, hats and more that have a kind and uplifting message on them. Davis shared the message behind his brand. 
"We believe that every person has the potential to make a positive impact in the world, and we are dedicated to everyone on their journey towards personal growth and self-improvement," Davis said. "Through our clothing, we aim to create a community of like-minded individuals who share our passion for positivity and kindness and are committed to making the world a better place." 
This very bright senior is impacting others with his ideas. Quite a few students at Eagle High promote Davis' brand by wearing his apparel proudly throughout the halls. Not only is he impacting others' lives around him, he is also getting to see what owning his own business is like.  
"My sisters and I had the idea in 2020 when there was a lot of confusion, disinformation, doubt and loneliness, and we wanted to find a way to combat all of that with positivity," Davis said. Since the brand's launched a couple years ago, Davis's brand has gained popularity from people who also want to pass along the message. These clothing items that might not seem like a big deal to some are a way to bring joy to those having a bad day or are needing a smile.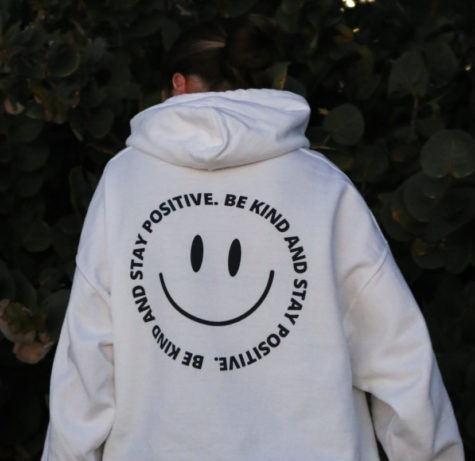 Positivity is important to the well-being of high school students. An optimistic outlook can bring students a sense of motivation and joy, and it can lead them to live a happier and more fulfilling life. Students like Carter Davis inspire kindness and belonging to those around them.  
Go to www.getpstv.com to purchase an item. T-shirts range from $17.99 to $19.99 a piece. The hoodies range from $42.49 to $59.99 a piece. Hats are $30 a piece. Lastly, the accessories range from $7.05 to $59.95 a piece depending on the item. Go buy something positive before it all runs out!