Eagle High is lucky to have Joey Nicholls as head librarian
The library in high school is an important place for both students and staff. Many students check out books, use the computers to print off work for different classes and get help with essay research and technology. Behind the scenes of a library is, of course, a librarian, and Eagle High is extremely lucky to have a librarian like Joey Nicholls. 
Nicholls brings a sense of light to the library. She shows kindness to the school and cares for every student she encounters.  
Nicholls started as an eighth grade English teacher and then moved on to be a librarian at Middleton Middle School. She has been the Eagle High librarian for three years and has enjoyed every year. 
"I check out, order, process, repair and shelve books. I manage all of the textbooks and class novels," Nicholls said. "I teach students how to use research databases. I track, collect and disperse laptops. I also offer tech support if students have laptop issues." 
Nicholls has many jobs throughout the school day.  
  "I run library programs during lunch and create all the videos you see on the TVs around the school," Nicholls said. "Best of all, I help students find books they might like." 
Nicholls' favorite part of her job is helping students find their next read. She enjoys when students come in throughout the day because time is never limited in the library. She believes there are no requirements when entering the library, only possibilities.  
Nicholls has also impacted many students at Eagle High. Students in the library get help from Nicholls every hour of the day. This is an essential part of Nicholls' job as a librarian.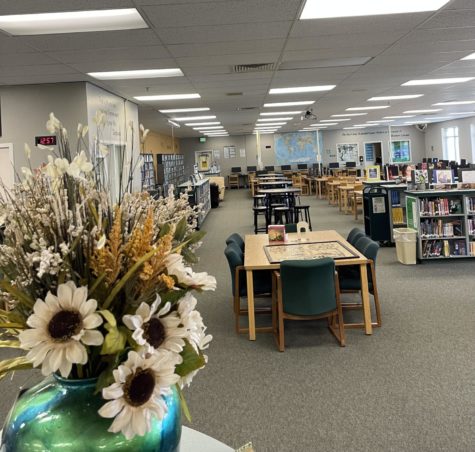 "Mrs. Nicholls is very nice and helpful. I peer tutor, and she is great with all the kids," said sophomore Addie Bode. "She helps me pick books that fit my reading preference and answers any questions. We are fortunate to have her with the school."  
Nicholls also has many hobbies outside of work. She loves to exercise, go for hikes, camp, read, go to dinner with friends and family and watch movies with family. 
Nicholls is an integral part of Eagle High. She helps every student by managing and taking care of books and class novels, helping with student technology and answering many student questions. Eagle High is fortunate to have a fantastic librarian that cares about the students.