Eagle High students have an amazing time with friends at the Sweethearts Dance
Sweethearts is a dance where the boys get to sit back and relax while the girls plan the date. It is a day full of fun activities, dressing up, pictures, dinner and dancing with one's friends. Sweethearts isn't thrown by the schools, students help run it.
This year, there were two main dances, one on Feb. 4 thrown by Job's Daughters and one on Feb. 11 thrown by Mob Meridian. Eagle High students gathered with friends and had days filled with laughter and fun. 
"To start out Sweethearts, Saturday morning my group went to a hot springs in Oregon and it was so much fun! It was a great start of the date," said junior Siena Thompson. "My date was from a different school, so it was a great opportunity to get to know each other better."  
Day dates are a great opportunity to break the ice with a date, especially if one branched out and took someone from a different friend group. 
"My highlight of Sweethearts was the day date. We did ours Friday night since the girls in our group had dance practice Saturday morning. Our date was a spa night with face masks and whitening our teeth. We also made pizzas together," said senior Sebi Tapia. "It was so nice to be pampered all night; it was a very relaxing night." 
There were a total of four dances throughout the year, two were boy ask girl and two were girl ask boy. For Sweethearts, the boys get to relax while the girls treat them to a day of fun. It is a great opportunity for the boys to understand why girls enjoy being taken on dates so much. 
"After our day date, everyone went home to get ready. Once ready, the girls went and picked up their dates and brought them to my friend's house for pictures," said senior Izzy Schenk. "It was so fun to see everyone dressed up! After pictures, we went to Western Proper for dinner. It was such a good time. The highlight of Sweethearts for me was being with all my best friends all day."  
The main part of dances is getting all ready and having dinner with ones group. Often these outfits have been picked out for awhile, so it is very fun to see everyone all dressed up.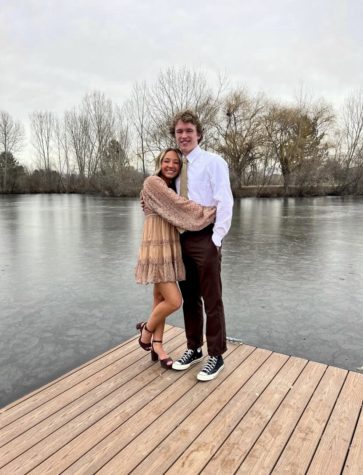 "After dinner, my group went to the Job's Daughter's dance in the fairgrounds. It didn't have too many people there but it still was fun," said sophomore Andrew Snyder. "The highlight of sweethearts for me was after the dance my group went to Westy's and went bowling."  
Eagle High students had a blast at this year's Sweethearts dances. Many memories were made while going on day dates, getting ready, taking photos, going to dinner and dancing with friends. This year's Sweethearts will be a highlight to many student's year.