These delicious recipes will make time in the kitchen more fun
Eagle High students share their all-time favorite recipes
More stories from Valerie Chaves
Each student has a recipe that is their favorite. Maybe because it is a family tradition or because they found it on the Internet, tried it and loved it so much that it has become a staple. Here are three easy-to-make recipes that are favorites of Eagle High students. 
"I called my favorite recipe, 'Sock-it-to-me Bundt Cake.' It is the best," said senior Rebekah Hinckley. 
"My favorite recipe is dates dipped in chocolate," said freshman Makenzie Gintz. "I make this when I'm really hungry and I want to make something very quickly." 
"I love pasta, and we make our own recipe that is called 'Pastas a la Merc,'" said freshman Catherine Chaves. "We named it, and we make it almost every week." 
Sock-it-to-me Bundt Cake 
Ingredients:
-1(15.25 ounce) package butter yellow cake mix (such as Betty Crocker), divided 
-2 tablespoons brown sugar 
-2 tablespoons ground cinnamon 
-4 large eggs 
-1 cup sour cream 
-1/3  cup vegetable oil 
-1/4 cup white sugar 
-1/4 cup water 
Directions: 
Step 1 
Preheat the oven to 375 degrees F (190 degrees C). Grease a 10-inch Bundt cake pan. 
Step 2 
Combine 2 tablespoons cake mix, brown sugar and cinnamon together in a medium bowl; set aside. Place remaining cake mix, eggs, sour cream, oil, sugar and water in a large bowl; beat with an electric mixer on high speed for 2 minutes. 
Step 3 
Pour 2/3 of batter into prepared pan. Sprinkle with cinnamon and brown sugar mixture, spread remaining batter evenly on top.  
Step 4  
Bake in the preheated oven until a toothpick inserted into the center comes out clean, about 45 to 55 minutes. Cool in pan for 25 minutes; invert carefully onto a serving plate and let cool completely. 
Dates with Chocolate 
Ingredients:
-Dates 
-Peanut butter 
-Chocolate 
-Salt 
-Coconut pieces 
Directions: 
Step 1 
First, get some dates and take the seeds out. 
Step 2 
Melt the chocolate, and while it melts put peanut butter inside and dip the dates in the melted chocolate. 
Step 3 
Then, put a little salt and the coconut pieces on top to decorate, and serve. 
Pastas a la Merc 
Ingredients:
-Pasta 
-2 tablespoons of butter 
-1 tablespoon flour 
-Milk 
-Cheese 
-Salt 
-Water 
-1 Chicken breast  
-Tomato sauce 
Directions: 
Step 1 
Boil water in a pot and bring to a rapid boil. Add salt and drop in the pasta while the water is at boil and stir occasionally while it cooks. While the pasta is being made, take a pan to cook the chicken. 
Step 2 
For the chicken, start with a wide pan, add oil, and cook the chicken over medium-high heat. After five minutes flip it, until there is a golden-brown color on each side. Then, shred the chicken into pieces. 
Step 3 
Now, it is time to make the sauce. Use the same pan that was used for chicken and add the butter, and when completely melted, add flour and stir until it becomes smooth. Then, add the milk and mix. Set aside. 
Step 4 
When the pasta is ready, remove the water and pour the pasta into the white sauce mixture and stir, then add the chicken pieces. Add a little tomato sauce to taste and a few pinches of salt to give it flavor. 
Leave a Comment
Your donation will support the student journalists of Eagle High School. Your contribution will allow us to purchase equipment and cover our annual website hosting costs.
About the Contributors
Valerie Chaves, Reporter Team Leader
Hi! My name is Valerie Chaves, I am a senior at Eagle High, and this is my second year on staff with the Stampede Newspaper. This year I am the lead of...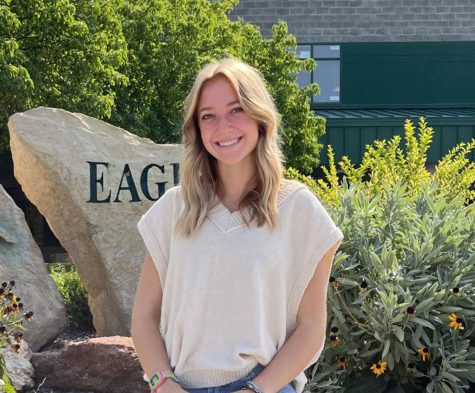 Jessie Snooks, Photographer
Hi, my name is Jessie Snooks, and this is my second year being a photographer on staff.  I am a senior here at Eagle High. I love wake surfing, skiing,...