Will Tadje makes his mark at Eagle High
This very accomplished student has brought so much fun and kindness to his school 
Will Tadje is a senior at Eagle High and is one of the student body co-presidents in student council. Ever since he was in his sophomore year, he's worked hard to get the top dog job of the student body.  
As ASB co-president, Tadje oversees and helps the council plan events and represent the student body. He managed the painting of the senior parking spots, which was a success, and many students said that it was a highlight of their senior year celebrations.  
"My favorite part about being in student council is being able to connect with the student body. I am very grateful for the opportunities student council has presented, I'm lucky to be able to serve the student body however I can," said Tadje. 
Tadje is also a very accomplished tennis player here at Eagle High. He didn't start playing tennis competitively until his sophomore year and made the varsity team during his first tennis tryouts that spring. Since then, he has become one of the best players on the team and hopes to continue to play tennis throughout his life.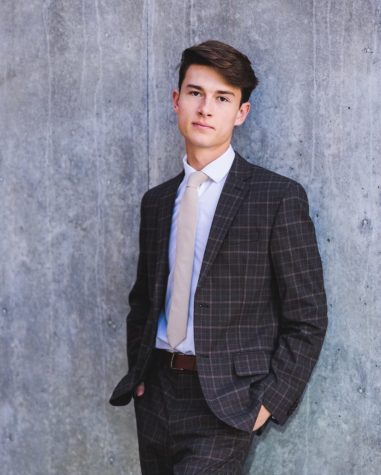 "My favorite part of playing tennis is that it forces you to take accountability a lot more than most team sports," Tadje said. "When you lose (in either singles or doubles), there is really no one to blame it on except for you. You can't blame it on a bad teammate or a bad coach, it comes down to your individual performance. Some people don't appreciate that about tennis, but I like it." 
In addition to being involved in sports and student council, Tadje is a brilliant student. He is at the top of the senior class and has taken many of the honors and AP courses offered at Eagle High. 
After high school, Tadje plans to serve an LDS mission before starting college and he has applied to the University of Washington and Brigham Young University, among many other distinguished schools. He intends to major in political science as he has thrived in his AP Government class taught by teacher Mark Snodgrass.  
Tadje is a talented and hardworking student with a bright future ahead, and he will be highly successful no matter what he plans to do in life. He is kind to everyone, and always goes of his way to make Eagle High a fun and inclusive environment for all his peers.