2022 was a year of genre-defining albums
The soundtrack of 2022 leaves an impact at Eagle High
This past year dominated the music scene with many genre and artist-defining albums. Albums are big projects that takes months, even years, to complete. These artists try their hardest to have a cohesive theme that leads to major hits. Many artists try and fail to meet their listener's expectations, but these five albums have pleased the masses all year long. These are the five best albums of 2022, in order of release. 
"Un Verano Sin Ti" (Latin Urban) 
Puerto Rican rapper and singer, Bad Bunny, continues his Reggaeton and Urban-Latin style with his fourth studio album, "Un Verano Sin Ti." Translating to "A Summer Without You," the album is entirely in Spanish and is heavily inspired by Caribbean style music mixed with Flamenco and has quickly turned into a summer anthem.  
The breakaway hits from this album contains the slow, fun album opener, "Moscow Mule." There's also "Me Porto Bonito" featuring Chencho Corleone, a very fun and explicit song that roughly translates to "I'll behave myself" and "Tití Me Preguntó," the most popular song of the bunch and one that sounds most like a fun summer pop-anthem. 
The album itself is pretty long, but it's a wonderful project full of fun and funky hits. "Un Verano Sin Ti" is ready to continue taking many on a great summer-beach adventure full of many ups and downs.
"Harry's House" (Pop) 
When the boyband One Direction disbanded in 2015, it left many fans wanting more music from the former bandmates. Since then, one of the former band members, Harry Styles, has sprung on a new life in his solo career. "Harry's House" is the third studio album from Styles, continuing the streak of indie-inspired pop music from his earlier albums. "Harry's House" is a play on Haruomi Hosono's 1973 album, "Hosono House," and Styles' version leans into the metaphor of the house, being an introspective look into his mind rather than his actual house.  
"He likes to make very depressing lyrics with an upbeat song, and I think that's very silly of him," said sophomore Lauren Avery. 
"Harry's House" has many hits that have become popular songs being played all year long. Those being, "As It Was," a wonderful song that contains melancholy lyrics about loss and divorce, "Late Night Talking," a song with a similar funk-vibe that is about Styles missing his lover after being separated from them and "Music For A Sushi Restaurant," a more psychedelic song that talks about ingredients needed for making sushi and relating that to his desire for a relationship. 
This album is an instant classic that caught the heart of millions. It's solidified itself as one of the best albums of the past year, even one of the best of the decade, so far. With the very deep, introspective lyrics and amazing sound of "Harry's House," this album will catch millions of more hearts in the years to come. 
"Gemini Rights" (R&B/Soul) 
Steve Lacy has had a steady increase in popularity over the years, but now more than ever, he is on top of the world. The soulful, rock and jazzy sound of "Gemini Rights" has the entire world falling love with Lacy, allowing him to get his first number one hit on the Billboard Top 100 for "Bad Habit." "Bad Habit" touches on a personal experience regarding Lacy about a woman that he left, despite loving her. Other hits from this album include the groovy album opener, "Static," and the strong and fun indie-rock sound of "Helmet." 
The entire album of "Gemini Rights" takes one on a journey through one of Lacy's first heartbreaks, but he does it in a way where there's different points of view and vantage points for one to investigate the situation on, and depending on one's opinion, Lacy instead talks about the bond between him and his fans, giving all of the songs different meanings based off of one's interpretations. 
"Bad Habit" is a great musical journey through Lacy's personal life and he definitely gave it his all on the smooth R&B album, giving each of the songs strong personalities and making the listener decide what the stories mean to them. 
"RENAISSANCE" (Pop) 
Ever since Beyonce hit the scene in 2006, she has solidified herself as a cultural icon, creating and playing into the most popular songs of this generation. With "RENAISSANCE," being her seventh studio album, she is continuing to make music that inspires millions and continues to shape history. Compared to Beyonce's other albums, this album in particular has very noticeable inspiration from songs from many different genres such as disco, R&B, rap and soul while still continuing to have a very distinguishable pop-sound.  
The major hits from this album includes the summer hit, "BREAK MY SOUL," a fun pop song that talks about instead devoting your energy into something that something that serves one, "ALIEN SUPERSTAR," a song that urges its listener to have the same confidence as the artist herself and to realize their own beauty and uniqueness and "CUFF IT," inspired with a fun disco style that is very flirtatious in nature towards her partner and herself.  
This album is sure to bring non-stop fun to one's life, talking about loving oneself and having confidence alongside the amazing pop, R&B and disco tunes of the amazing project known as "RENAISSANCE," truly being Beyonce's "renaissance" masterpiece. 
"Midnights" (Pop) 
Taylor Swift is undoubtedly one of the most popular singer-songwriters of this generation, with her immediate hit "Midnights" being her twelfth studio album and tenth original album. Swift takes the listener on a journey through her life, having each of her 20 songs dedicated to a specific "midnight" in her life which was important to her.  
"I think it's a good way to look at an artist from a different point of view," said sophomore Reese Early. "I feel like that nobody actually thinks that they're a real person and have those kinds of nights like everybody else." 
"Midnights" contains many hits, with 10 of the songs on the album debuting on the Billboard Top 100 charts one through ten, respectively. The most popular are "Anti-Hero," an upbeat-sounding song sharing Swift's insecurities about her body and actions, "Lavender Haze," a song that disregards haters and tells them that she just wants to be happy in her relationship and "Bejeweled," an anthem to any person to remember that one deserves better than to be in a horrible relationship.  
With the number of records this album is breaking for both itself and Swift herself, "Midnights" is a project that is well-deserving of the praise, having a dark tone at times, a light tone in others, and overall, an album containing hits after hits.  
Leave a Comment
Your donation will support the student journalists of Eagle High School. Your contribution will allow us to purchase equipment and cover our annual website hosting costs.
About the Contributors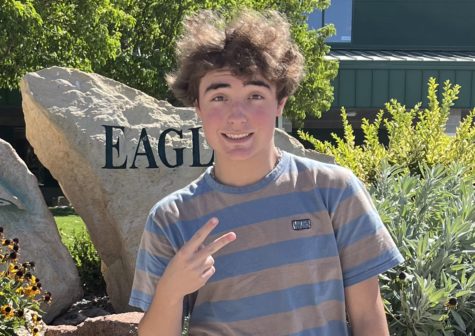 Cole McAdams, Copy Editor
Hi! My name is Cole and this is my first year being part of the Newspaper staff! I'm a sophomore and my favorite subjects are Acting and History. One...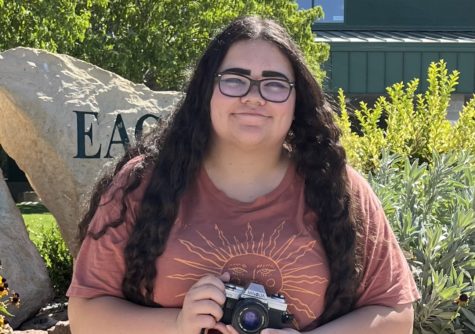 Kara Skiles, Photographer
Hello there! My name is Kara Skiles. I am a Junior at Eagle High, and a new photographer on staff for the Stampede. I like to write, play videos games,...