Eagle High boys' basketball is back and ready to shock the SIC
Basketball is officially back in the state of Idaho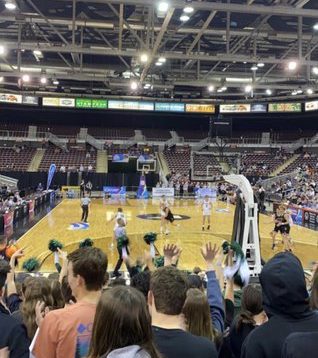 The Eagle High boys' basketball team has received new transfers for basketball and they're now a force to be reckoned with. The team looks better this year than last year, and they hope to do just as well. 
Last year, the Eagle High basketball team was stupendous under second year coach Cody Pickett's leadership. Pickett led his team to a 20-3 record, making Pickett Idaho's Coach of the Year. Unfortunately for the team, they have lost many amazing/excellent players with only three returning players.  
This summer, junior Russel Gibson transferred back to Eagle from Utah. Gibson is a tremendous point guard for the team and is a perfect guard for Pickett's system. Eagle also received another significant transfer, senior Sawyr Hansen from Middleton High School. Hansen is a monster of a big man who can dominate on the down-low in Pickett's system. 
This year, the team turned younger which is better for Pickett, considering that the basketball team was made up of 10 seniors last year. The team will have much to prove this year but that doesn't bring doubt among the team. 
"I know last year Eagle did amazing, but I feel like people really underestimate us," said Gibson. 
Last year was filled with great memories, a great record, beating Owyhee High in four overtimes and, of course, going to state. 
"Last year's Owyhee game was the best, the student section was packed and brought amazing energy from the tip to the end," said junior Cole Pugh.
The state of Idaho is filled with talented players and one of Eagle's newest rivals and reigning state champ, Owyhee High, has also received numerous amounts of transfers and is being led by four-star recruit Liam Campbell. They are the top vote to be the back-to back state champs.  
Every team will have something to prove, and Eagle plans on doing just that. With their new transfers and returning players, Eagle will be able to shock teams all over the state of Idaho.