Skiing versus Snowboarding: the battle of the best winter sport is settled 
There is no feeling quite like flying down a snowy hill with nothing but heavy plastic protecting a fall, geared up in thick coats and gloves, with snow falling all around. Skiing and snowboarding are among the most beloved winter sports, but is there one that is better than the other?  
According to skiingglab.com, "Snowboarders are 40% to 50% more likely to get injured in comparison to skiers."  
Risk might be a part of the reason people enjoy snowboarding, but no one wants to wake up, get onto a ski hill and get injured, which is more likely to happen when snowboarding. Skiing is a family friendly outdoor sport, with parents taking their kids to ski around and be safe. That safety is not guaranteed if one is snowboarding rather than skiing.   
According to skiinggab.com, "One of the main reasons why skiing is better than snowboarding is that it is easier to learn."  
Being able to pick up a sport in a short amount of time can be both encouraging to beginners and more fun. Skiing is a lot easier to pick up then snowboarding, so one can learn how to ski quicker and have much more fun instead of wasting so much time learning to snowboard.  
According to snowauthorities.com, "Snowboarding can be hard to learn in the beginning, but once you master basic control, it is a lot easier to learn stunts and tricks."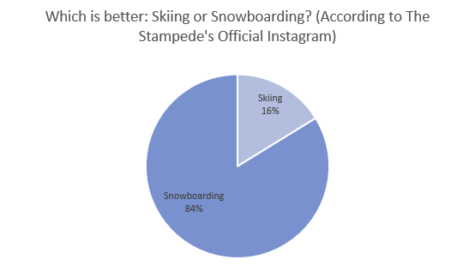 Even though snowboarding is harder to learn, once mastered, tricks and other ways to create fun while snowboarding come easy. Once skiing basics are mastered, tricks and other stunts are much harder to pull off.  
According to snowauthorities.com, "Snowboarding has a much wider range of riding styles compared to skiing."  
Skiing may seem fun at first, but after a while, it feels like doing the same thing repeatedly. Snowboarding has a much wider range of things to do than skiing, so boredom will never come while on the hill.  
Skiing and snowboarding are two of the most beloved sports in the world that create fun in the winter season. Both have pros and cons but are also great ways to spend time.   
Leave a Comment
Your donation will support the student journalists of Eagle High School. Your contribution will allow us to purchase equipment and cover our annual website hosting costs.
About the Contributor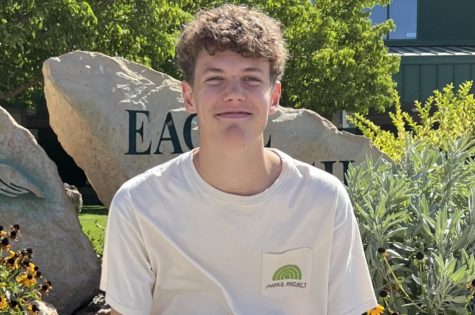 Brady Woods, Reporter
Hello, I am Brady Woods, and I am currently a senior at Eagle High School. This is my first year on the Newspaper staff. In my free time, I like to climb,...