Changing seasons bring new perspectives 
Fall is the time to start getting comfortable 
When nature changes, everything changes. The fall of the leaves indicates the way in which people should let go of what they no longer need and start focusing on what really matters. 
The reddish, yellow, orange and golden tones indicate that the end of another year is approaching, and while it sounds a little nostalgic, this season brings with it the festivities and activities that give a little hope in the last months of the year. 
New colors in the trees, pumpkins, candy, costumes, corn mazes, terror and fun signal the beginning of the season of plenty. 
"Personally, I am a big fan of the holidays, so I love Halloween, Thanksgiving, Christmas and New Year's, too," said junior Marsaela Levanger. "But I feel like fall really kicks off the holiday season and that holiday feeling." 
In addition to starting all these activities, fall is also a time that allows people to appreciate and enjoy the landscapes, spend more time wrapped in blankets and comfortable clothes and gives people the opportunity to bake, cook and spend time with loved ones. 
"There is a good feeling. I love the crunchy leaves outside and pumpkin flavored treats, I feel like a lot of baking happens, and it is just like a very cozy and comfortable season," Levanger said. 
According to theodysseyonline.com, "There is no denying that throwing on a cozy sweater with some leggings will make your day that much better. And being able to rock a comfy oversized sweater can be completely comfortable yet still look like you could rock a runway. It also makes the decision in the morning of what to wear that much easier."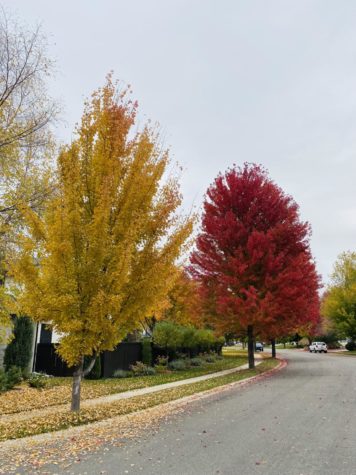 The most favorite and desired thing about this season is the weather.  
"The weather is the best because I only have hoodies and sweatshirts in my closet, so I get to wear all my nice clothing," said junior Kaitlin Brookshier. "I mean, it's the best season, it's cool, there's nice breeze and you're not overheating."  
According to bustle.com, "The summer is super hot. The winter is beyond cold. Fall? Well, it is just right. Things are not freezing yet, but you still manage to get a nice, cool breeze on most days." 
Fall is a season full of positivity. It shows that new beginnings are necessary, that fun can be found in the simplest ways, and that nature begins to align with one's attitude in order to make changes in people's lives.