The streets of Iran erupt in protest due to unjust women's rights
Due to the death of a woman in Iran, large-scale protests have ensued
In September 2022, a woman by the name of Mahsa Amini was arrested by the Morality Police in Iran, and would later die in police custody. The death of Amini has been met with international criticism and large-scale protests throughout Iran.  
Mahsa Amini was arrested by the Iranian Religious Morality Police because of an "improper hijab." When she was arrested, her family was informed that she was being taken to a detention center to undergo a briefing class, Just two days later on Sept. 16, Mahsa Amini fell into a coma and later died in police custody after allegedly being beaten by Iranian police. Her family was later informed that she allegedly suffered a heart attack and a brain seizure while in police custody, and she was later transported to the Kasra Hospital in Tehran, Iran. Shortly after arriving at the Kasra Hospital, Mahsa Amini fell into a coma. She was said to be brain dead when she was admitted into the hospital. CT scans from the hospital showed bone fracture, brain edema and hemorrhage. After two days of being in a coma within the hospital, she passed away on Sept. 16. Women who were detained with Mahsa Amini stated that they witnessed the police beating and abusing her while on the way to the detention center. 
The Government of Iran and its supporters stated that the CT scans showed psychological stress, but this was proven false because psychological stress is an emotion and is unable to be picked up on CT scans. Medical professionals stated that the scans showed brain trauma due to physical beating. It is also reported by Iran International, one of Iran's largest broadcasters, that fake medical records were forged by an Iranian neurosurgeon stating that Mahsa Amini had a history of heart disease and had heart surgery at age eight; these claims were later reported on Iranian State television. Her father, Amjad Amini, denied that she had heart disease nor had a heart surgery, stating, "They are lying… She never had any medical conditions, she never had surgery."
"
They are lying… She never had any medical conditions, she never had surgery. "
— Amjad Amini
The death of Mahsa Amini has sparked civil unrest throughout Iran, with large groups of people protesting in the streets and on social media. These protests are primarily against Iran's women's rights and hijab laws. Initially the protests were demanding an end to the Iranian Regime's unjust hijab laws, but these protests have now turned into demanding women's rights and freedoms in general. The recent protests have also seen protesters demanding a large-scale change in government, throwing out the current regime. In an effort to suppress media attention to the protests, Iran has also completely enacted a widespread internet blackout which made many social media websites blocked so that news of the protests and the Iranian police's deadly reactions to the protests are unseen. Iranian Police have been reportedly firing live rounds into crowds of protesters to silence them. It is reported that Iranian law enforcement have killed 215 protesters since the protests erupted, and 7,000 protesters have been arrested in the streets of Iran. 
Leave a Comment
Your donation will support the student journalists of Eagle High School. Your contribution will allow us to purchase equipment and cover our annual website hosting costs.
About the Contributor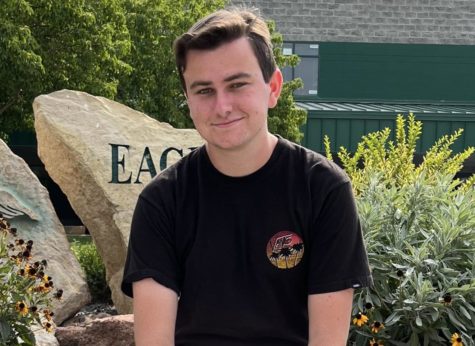 Sean Asay, Photographer
Hi! My name is Sean Asay and I am currently a junior at Eagle High. I am a photographer for the Eagle High Newspaper and this will be my second year on...