Hurricane Ian rocks Florida
The natural disaster has torn through large areas across North America
After forming in the Caribbean, Hurricane Ian plowed into southwestern Florida on Sept. 28, making landfall as a Category Four Storm. It destroyed piers, houses and other buildings as it migrated inland, bringing intense flooding with it. 
As Hurricane Ian moved inland, it was downgraded to a Tropical Storm; however, after crossing over Florida and moving into South Carolina, it picked back up into a Category One Hurricane.  
In anticipation of the storm, many of Florida's residents were told to leave their homes. 
According to thecapitolist.com, "Charlotte, Hillsborough, Levy, Lee, Manatee, Pasco, Pinellas… and Sarasota counties all issued evacuations to varying degrees." 
Especially for those on the coast, evacuations were essential to saving lives.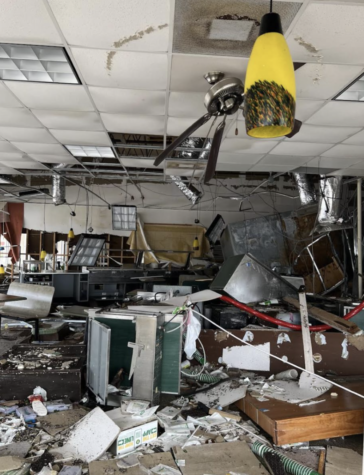 Social media played a major role in keeping the general population up to date on the storm's progress. Because of TikTok's rising popularity, many Floridians chose to post personal updates about the storm on the social media platform.  
Some residents chose to stay at home despite mandatory evacuation orders.   
TikTok feeds filled with live videos of Hurricane Ian causing damage. In one TikTok video, a woman filmed herself floating in the middle of her flooded living room with no power. Other videos showed strong winds ripping off the screens around swimming pools and crocodiles and sharks swimming through the flooded streets.  
There was even a series of videos posted by husband-and-wife Chris and Molly Henard, who were searching for the husband's parents and spreading the word to see if anyone had information about them. They later posted a follow-up video. 
"We just got word from a credible source that his parents have been found safe," said Molly Henard. Comments flooded into the video showing their gratefulness that a stranger's parents were safe. 
Now, Florida is attempting to clean the damage caused by Hurricane Ian. The death toll in Florida surpassed 100 people, and smaller numbers of mortality were reported in South Carolina. 
Hurricane Ian was a record-breaking storm, and Floridians are doing their best to recover from its impact.